Protect your family and the value of your home by removing water & moisture from the walls, floors and ceiling.
Water damage poses a serious health risk to your family, destroys the structural integrity of your floors/walls and degrades the value of your home. Hidden spots of moisture cause mold growth, material degradation and structural breakdown inside a house.
Water can damage your home, even if you cannot see it.
Sometimes the most destructive water damage is the moisture hidden away from the human eye.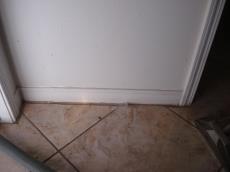 To the human eye, this wall appears to be dry.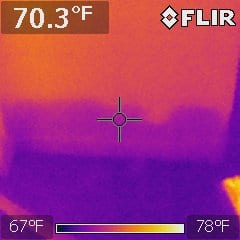 Our Thermal Imaging Camera (FLIR) reveals what is actually going on under the surface: dangerous and destructive water damage.
Our team can remove the water &
stop the damage to your home
24/7 Emergency Water Damage Restoration
If you have water damage, call us today!
Fix Your Water Damage in 3 Simple Steps
Fill out a Get a Quote form
We appraise the damage and give you an estimate cost
We remove water and dry out the structure (carpet, padding, baseboards, drywall, & ceilings)
We have over 20 years of proven water damage remediation/removal services with
5-Star Master Technician Certification
There are many ways water can find it's way into your walls, floor and ceiling, including:
Plumbing leaks and issues with plumbing systems
Clogged downspouts and gutters
Blocked toilets
Burst pipes
Hurricane & bad weather conditions
Flooding
Aging hot water heaters
Washing machine leaks
When a washing machine hose bursts or a storm floods your home, a LOT of water soaks into the floor material, drywall and wood. Water can actually crawl up inside your walls 12+ inches, driving moisture into the deepest corners of your home. This water can take weeks to evaporate, causing massive harm and potential mold growth to wood, drywall and more. Much of this damage is not apparent to the naked eye.
For anything more than a small amount of water, you need specialized water extraction and structural drying equipment to remove excess moisture from building materials as quickly as possible. Using a shop wet-vac or mopping & bucket isn't enough, nor are cleaning companies and ordinary general contractors. You need experts with the right drying equipment.
Without thermal imaging equipment, it's near impossible to ensure you find all the areas of your home affected by water damage. We use a high-tech thermal imaging camera to find water buried deep within the walls.
Working with a specialists like Gulf Coast Carpet Care gives you peace-of-mind knowing they are licensed, insured and trained for water cleanup and restoration.
Following IICRC, CRC, and RIA guidelines, we tailor our water damage restoration and flood damage cleanup process to your specific situation.
We assess the level of damage in a class system – Class 1, a partial room with little wet carpet through Class 4, flooring soaked in several rooms, water-wicking a foot or more up walls, and even hardwood and stonework saturation. We also look at the degree of health hazard – Category 1, directly from drinking-water plumbing through Category 3, storm flooding and sewage backups.
The goal of our water damage remediation service is always the same – to minimize the water damage by removing moisture as quickly as possible.
Here is the process we use:
Immediate water removal - In cases of flood damage from natural causes, our technicians focus their attention on containment and isolation of biohazards. After this containment, they follow up with extreme cleaning, disinfecting, and debris removal.
Water extraction - Our unique, truck-mounted extraction gear vacuums surface water out of floors, walls, and ceilings.
Building structural dry out - Refrigerant dehumidifiers, air movers, and turbo dryers are used to remove every form of dampness. Our specialists monitor temperature and humidity levels to adjustments for rapid drying. The job is not finished until excess moisture is at a safe level.
Our state-of-the-art equipment, certified technicians, and decades of experience turn weeks of drying under natural evaporation into typically just 3 to 4 days.
We take care of cleaning and disinfecting regardless of the size or source of water damage.
We offer water damage cleanup and water damage restoration in Navarre, Mary Esther, Gulf Breeze, Fort Walton Beach, Shalimar and Destin, Florida. To inquire about our service area, give us a call at 850-240-1509 or fill out the Quote Request Form.
Peter is your guy for carpet care! Best service, quick work, knowledgeable and informative, and reliable results.
~ Meagan B.

A fantastic veteran owned and operated business that knows how to treat customers. They do a fantastic job every time and will bend over backwards to make sure you are happy. I cant recommend them enough!
~ Anthony S.
I am a property manager/realtor and I have used Gulf Coast for all my carpet cleanings for years. They are responsive, prompt, willing to go the extra step when needed.
~ Kim D. 5-STAR Master Technician Certification 100% SATISFACTION GUARANTEED Veteran Owned & Operated